Description
We have a long history of phone unlocking, and we make sure to offer you the easiest and fastest way to unlock the Android Alcatel mobile phone at the best price. This method is the same as the one used in service shops, the only difference being that you will not have to leave your house or leave the phone from your hands, and very easily will have your phone unlocked.
Please verify that your Alcatel asks for an unlock code with a sim card from a different carrier before ordering the unlock.
Process time: 1-2 days
Supported models: Almost all  Alcatel models 
Only GSM (with IMEI) models are supported by this method.
If you want to be sure your model is supported, just ask!
How the Alcatel new models unlock is done
When buying this service you will have to insert some data about your phone:
the phone model (ex-Alcatel OT-6040 )
IMEI (ex: 353424250140367, be careful to write the IMEI correctly. The IMEI must have 15 digits and can be found by dialing *#06#).
The Provider ID (ex 4030-2ATBUS1-R )
The Provider ID can be found by taking the battery off your Alcatel and looking on the UPC label on the back of the cellphone. See the picture on the right. If your phone does not show a Provider ID on the back of the phone, then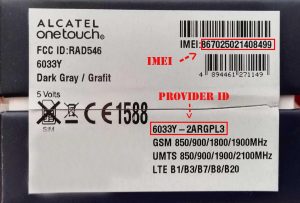 type *#837# or *#3228# (whatever works for you) and get the number that begins with X like XZ98YF40.
Very important to write the Provider ID (or the number that begins with X like XZ98YF40) in the Order Notes at checkout,or email us after